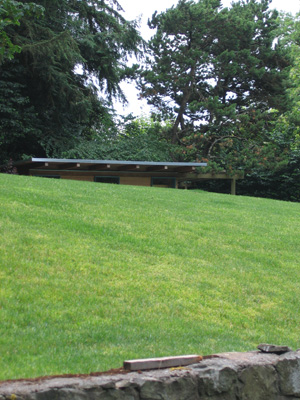 Location: Portland, Oregon
Architect: John Storrs (original)
Design: Green Gables
Construction: Green Gables
When a tall, gruff man appeared on her doorstep the owner immediately realized it was John Storrs, the revered Portland architect and original designer of the house.
There had been extensive renovation and a substantial addition to the home. Storrs was curious to see what had been done. His approval testified to the client's respect for the existing architecture and love for things contemporary.
A new wing has left most of the original structure and gardens undisturbed while repairing the weakest element of the existing architecture, the entry.
Existing garage doors have been moved away from the front door and an entry courtyard now replaces what was once an asphalt driveway. Passing through a gateway the path to the front door now leads through a garden with an overlook onto a water feature. The walk into the house from the garage passes by large windows with views into the landscape and entry garden.
The main garden on the south side of the house has been given new life. Simple horizontal architectural elements set off the existing kidney shaped pool and redefine the garden edges.